Outer Banks June Trends
Although the numbers continue to decline compared to last year, the activity did pick up, and the decrease in numbers is still more of a result of low inventory rather than high mortgage rates. While units were down slightly compared to the previous month, June sales volume experienced an uptick due to several high-end sales.
In June, 65 of the 165 properties sold went for 100% or higher of the asking price which is a strong indicator that buyer demand remains high!
​​​​​​​For the 2nd month in a row, the average sales price increased compared to the previous month!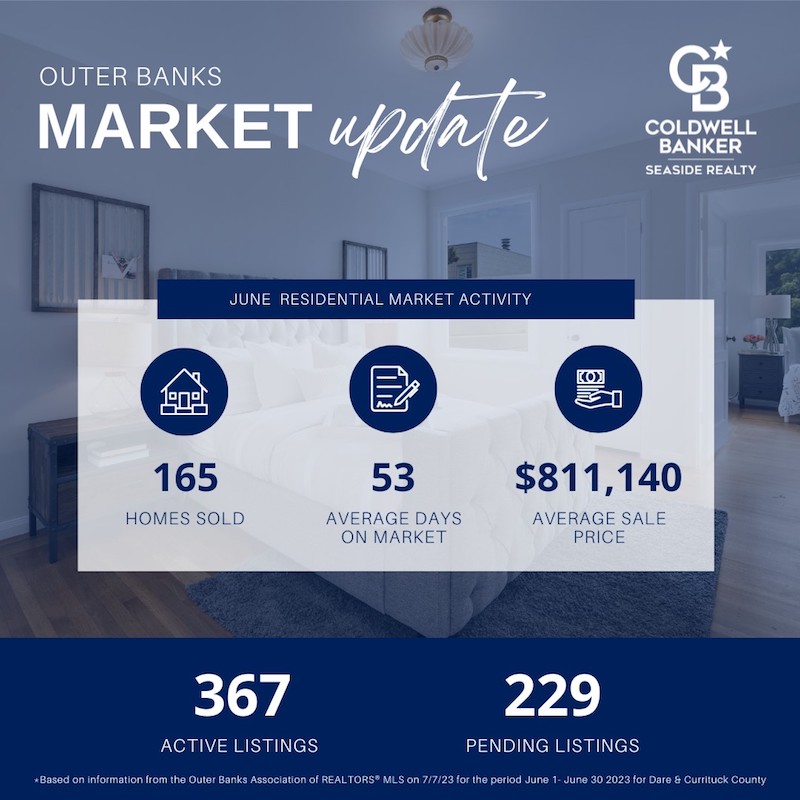 June MLS Fun Facts
The Average Asking Price of a single-family home listed in June was $775,254
79 of the 174 properties listed in June have either sold (8) or are already pending (71) after being on the market, on average, for just 7 days!
On average, property sold for 94% of the original asking price
22% of the closings were cash transactions, 65% conventional loans
3 homes sold for over $3 Million.  2 were investment homes with rental income and one home was located in a primary residence area (Martins Point)
The Average Sold Price of $811,140 was the highest monthly average for at least the past 4 years!
Click to view our Monthly Market Video to see how the different areas of the OBX performed in June.
Based on information from the Outer Banks Association of Realtors MLS 6.1.23 – 6.30.23 for residential sales in Dare & Currituck County
Year to Date
Year to date, for the first time in three years, our market is actually experiencing a downward trend compared to 2019, which was before the pandemic. It is highly likely the low Inventory and high mortgage rates are to blame.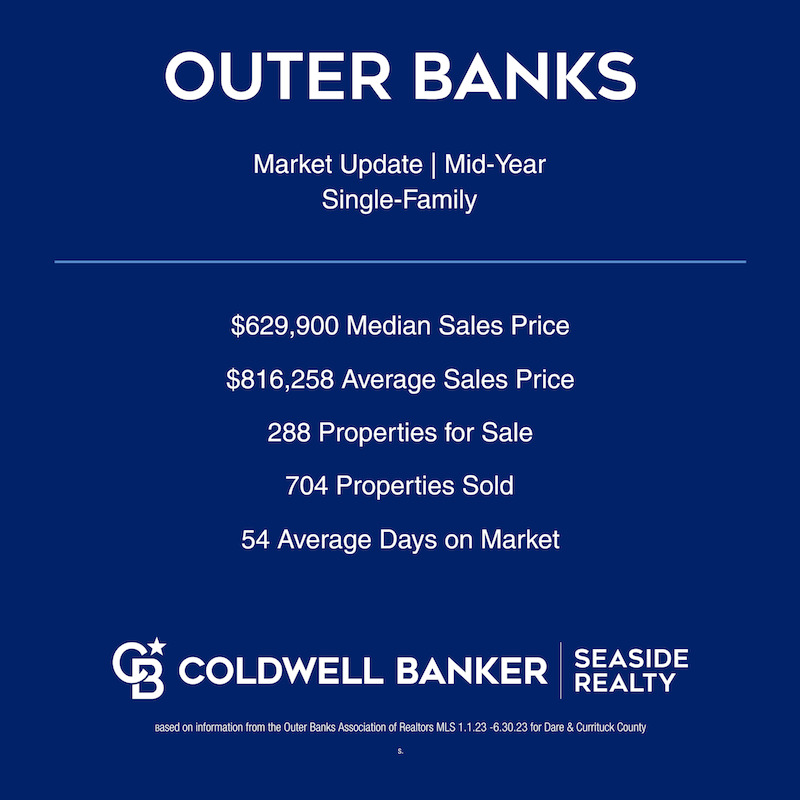 Both Dare (-28%) and Currituck County (-22%) have inventory levels below Mid-Year 2022.  Here are just a few examples of areas with substantial decreases in active inventory YOY:
Nags Head oceanside: -57%
Kitty Hawk between the highways: -46%
Duck oceanside: -41%
Nags Head between the highways: -41%
Corolla Oceanside: -37%
Kitty Hawk Westside: -36%
Hatteras Island: -33%
Nags Head westside saw the highest increase compared to last year with a 50% increase in active inventory!
Why aren't sellers selling?  Among U.S. mortgage borrowers, 96.3% have a mortgage rate below 6%, and they aren't willing to give it up. For example: 26% have a rate under 3.00%
70.7% have a rate under 4.00%
91% have a rate under 5.00%
96.3% have a rate under 6.00%
The result is the fewest U.S. homes for sale since 2012.  Click to read the full article
Based on information from the Outer Banks Association of Realtors MLS January 1 – June 30, 2023, residential sales in Dare & Currituck County
OBX Rental Market Update
Once again, we reached out to Michelle Russell, Business Development Manager for Seaside Vacations for an update in the vacation rental market.
Overall, the market is holding steady and 2023 is trending about 5% down vs last year. Unit revenue is up 16% and the Average Daily Rate is up 17%, despite discounting. Most of the decline was seen during the spring when bookings were down 25.85% for the March 1 – May 20 time frame. We saw a lot of last-minute booking activity in June which has carried over to July.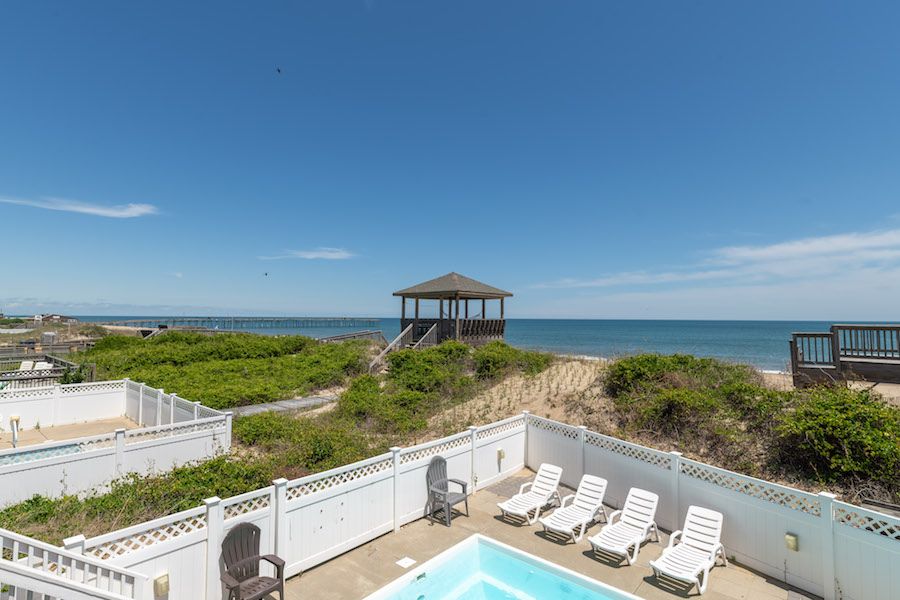 September bookings have slowed and are now pacing slightly behind last year. October occupancy is consistent with last year.
Thanksgiving and Christmas weeks continue to do well and remain just slightly ahead of last year YTD.
2024 bookings are rolling in at Seaside and while the market overall is down about 14.7% in booking activity for 2024, year to date Seaside is outpacing 2023 advance bookings by 16.23% for 2024! For example, we are seeing June 2024 weeks already hitting occupancy rates of 10% and bookings between 7/14 – 9/28/2024 are almost double what they were this same time last year (46.6% increase over that period last year YTD).
While we are excited to see this activity it tells me we may see similar booking trends next year to what we did in 2023 so its important owners have their calendars open and begin accepting bookings now.
Seaside Vacations manages over 400 rental homes and recently expanded to Hatteras Island.